Follow the Indian Premier League 2021 live cricket score on Sports.NDTV.com. After 2.3 overs, Chennai Super Kings are 22/1. Get live score, ball by ball commentary and much more. Keep track of Indian Premier League 2021 today match between Mumbai Indians and Chennai Super Kings. Everything related to Mumbai Indians and Chennai Super Kings match will be available on Sports.NDTV.com. Stay updated with Mumbai Indians vs Chennai Super Kings live score. Do check for Mumbai Indians vs Chennai Super Kings scorecard. You can get scorecard updates, match related facts. Get quick live updates with ads, Sports.NDTV.com, which is the perfect destination for live cricket score.
2.3 overs (6 Runs) SIX! Dispatched! Sublime timing! Back of a length, angled on the pads. Moeen Ali simply helps it all the way over the square leg fence.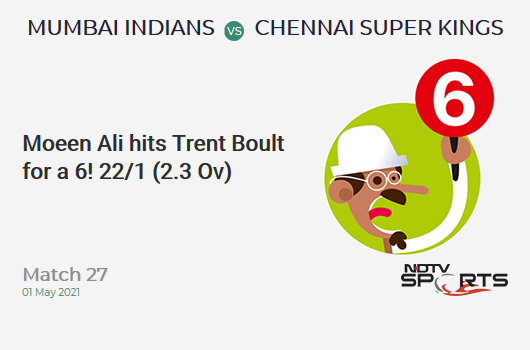 2.2 overs (0 Run) Back of a length, outside off. Moeen Ali looks to go through the off side but gets the inner half of the bat. The ball goes to mid on.
2.1 overs (1 Run) Length ball, outside off. Du Plessis runs it down to short third man. The fielder there gets down in time to save 3 runs for his team.
1.6 overs (0 Run) Serves a length ball, on the pads. Moeen clips it to mid on. 11 runs from the over, courtesy of some excellent batting by du Plessis.
1.5 overs (1 Run) Fuller ball, outside off. Faf du Plessis pushes it wide of long off. There was a call for the second run, but Pollard gets across and keeps it down to one.
Dhawal wants a different field it seems. The fine leg comes in the circle. The mid-wicket fielder goes in the deep.
1.4 overs (0 Run) Fuller ball, around off. Pushed to mid on.
1.3 overs (6 Runs) SIX! Ruturaj Gaikwad may be gone but Faf du Plessis is making his presence felt! He comes down the track and smokes this over the long off fence. The ball was in the slot and he played this to perfection.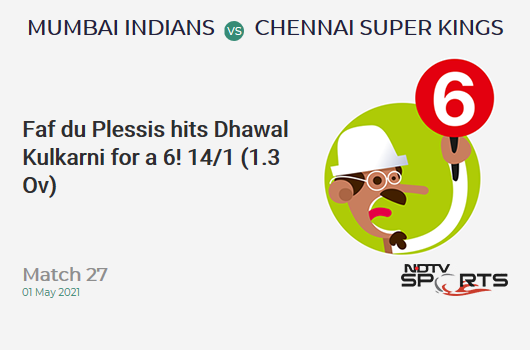 1.2 overs (0 Run) Good length ball, outside off. Defended from the crease.
1.1 overs (4 Runs) FOUR! Nicely done! Lands on off, on a length and nips back in. Faf du Plessis clips it down to the fine leg fence. There is a fielder in the deep but he has no chance.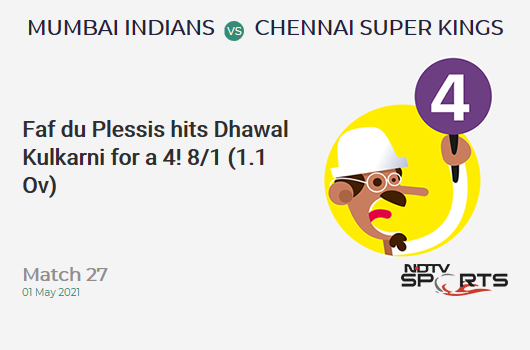 Who will partner Boult from the other end? Dhawal Kulkarni to share the new ball.
0.6 over (0 Run) Beaten! Fuller ball, lands outside off and nips away. Moeen Ali goes for the drive but doesn't connect. 4 runs and a wicket from that over and Mumbai will be very happy.
0.5 over (0 Run) Good length ball, outside off. Left alone.
Moeen Ali is in at 3. He wouldn't have expected to come this early.
0.4 over (0 Run) OUT! TAKEN! Trent Boult strikes in the first over and he is delighted! Good length ball, lands on middle and nips back in. Ruturaj Gaikwad looks to run it through the leg side but closes the face of his bat a touch early. The ball takes the leading edge and goes straight to Hardik Pandya at point. He is not going to drop those. Early success for Mumbai and Chennai's in-form opener has been sent packing.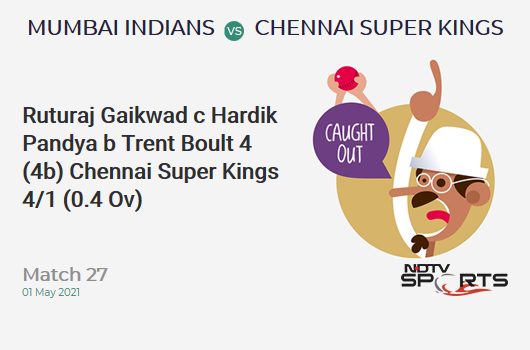 0.3 over (0 Run) Fuller ball, outside off. Defended off the front foot.
0.2 over (4 Runs) FOUR! Oh my goodness! Such a glorious stroke! Full ball, outside off. Ruturaj Gaikwad gets on his front foot and creams it past cover. The ball races to the fence.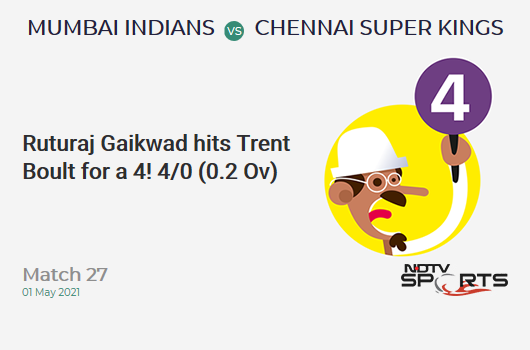 0.1 over (0 Run) Boult is on the money straightaway! A length ball, just outside off, Gaikwad stays back and pushes it towards gully.
Right! We are done with all the pre-game formalities. It is time for the action to unfold. The Mumbai players take the field following the two umpires. Ruturaj Gaikwad and Faf du Plessis, the Chennai openers, stride out in the middle as well. Trent Boult will begin with the ball for Mumbai. All set for this exciting clash. Here we go…
Chennai (Unchanged Playing XI) – Ruturaj Gaikwad, Faf du Plessis, Moeen Ali, Suresh Raina, Ambati Rayudu, MS Dhoni (WK/C), Ravindra Jadeja, Sam Curran, Shardul Thakur, Lungi Ngidi, Deepak Chahar.
Chennai skipper, MS Dhoni, tells that they were looking to bowl first as well. Feels that the ground is not a big one and the wicket became better to bat on. Says that each and every opposition is a strong one and that's the beauty of the tournament. Adds that irrespective of the opposition, their preparations remain the same. Informs that they are unchanged for this game.
Mumbai (Playing XI) – Quinton de Kock (WK), Rohit Sharma (C), Suryakumar Yadav, Hardik Pandya, Kieron Pollard, Krunal Pandya, James Neesham (In for Nathan Coulter-Nile), Dhawal Kulkarni (In for Jayant Yadav), Rahul Chahar, Jasprit Bumrah, Trent Boult.
Rohit Sharma, the Mumbai skipper, says that the wicket looks good and it should stay the same throughout the game. Informs that there are two changes. Dhawal Kulkarni and James Neesham are in, Nathan Coulter-Nile and Jayant Yadav miss out. Adds that it is always a big game against Chennai and this game is no different.
TOSS – Both the skippers, Rohit Sharma for Mumbai and MS Dhoni for Chennai strides out for the flip of the coin. Up it goes and it lands in Rohit's favor. Mumbai will BOWL FIRST.
Breaking – We have a news for all the Mumbai fans. James Neesham is set to make his debut for Mumbai.
PITCH REPORT – Darren Ganga is down for the pitch report says one side of the ground is short and the batters would look to target that. Anjum Chopra joins him. She says that there is good grass covering on the pitch and it will stay true throughout the game. Tells that this wicket was used during a domestic game where over 300 was scored by the team batting first and that score was chased down. Adds that there will a little bit of dew post 8 pm but it shouldn't be a big factor for the team batting second.
Hardik Pandya is caught for a little chat. Tells that it is a matter of time that he gets going. Feels the process is more important than the result. Tells that every game is fresh and it doesn't matter if he scores a 100 or 0. Adds that they have great support as a team. Thanks the front-line workers and medical staff for all their hard work in such difficult times. Adds that he, Krunal and his entire family has been finding ways to help people. Adds that they have decided to donate 200 oxygen concentrators to the rural parts of India where he feels the medical infrastructure needs more support.
Hello and welcome everyone! It is the clash of the titans in the Indian T20 League. 5 times champion Mumbai take on 3 times winner Chennai. Rohit vs Dhoni. It is always a big encounter when these two teams battle. In the last season, it was Chennai who won the first battle but Mumbai managed to take revenge. And they went on to win the tournament. Who will come out victorious this time around? An exciting clash is on the cards. Stay with us for the toss and team update.
Topics mentioned in this article