My oldest friend in Islamabad passed away last week. By old I mean not just wise in years but also the first fellow environmentalist I met in the city so long ago I can't even remember how. How does one pen all that she taught me and so many others in just a thousand words or so? Helga Ahmad, or Helga Aunty as I called her, was a truly good friend who was also passionate about our common cause, creating awareness about protecting the environment. She was one of our "Green Pioneers" whose interviews were included in one of the first books I wrote on the environment back in 2002 for the UNDP. Her chapter was entitled 'Bavarian Dynamo'.
Having grown up in Germany during WW II Helga Aunty was no stranger to poverty and deprivation. During her childhood years in war torn Bavaria she lived without electricity and running water and the family survived on wild berries, herbs and mushrooms. She told me back then during the interview, "I learnt the idea of get up and go very early in life".
In fact, whenever I admired her high energy levels and robust health over the years she would say the secret behind it was that she got up in the morning and prepared her own breakfast and then would run out of the house for some errand or mission! She learnt early in life the important lessons of self-perseverance and self-help.
When she married a Pakistani, Jamil Ahmad (the famous writer who penned the award winning novel The Wandering Falcon) and left Germany to settle in this country, she did not take on the role of the 'gora memsahib'. Instead tried to involve herself in the activities of whichever community her husband was posted as a member of the Pakistan Civil Service.
Over the next few decades she initiated a number of successful community-based projects from promoting local handicrafts to the rearing of silkworms to spreading the use of vegetable dyes. She travelled with her husband from Dera Ismail Khan to Quetta. In Balochistan she set up an embroidery project amongst the Afghan refugees with a small amount of funding from the UNHCR.
This seed capital generated more than Rs11 million worth of embroidery over a period of 10 years. A Swedish monitoring team identified the project as the only programme they had come across that actually trained women in mid-level management!
"It was then that I thought to myself that if I, a house wife by profession, could do it then why couldn't the professional NGOs in the country be more effective!" she complained to me. For years her pet hate would be how NGOs in the country misuse donor money. She would in fact be very vocal in her criticism especially at their lavish media events often held in five star hotels. I would often be sitting next to her and I remember many an awkward moment! She was our moral compass and she never compromised on her principles.
When Helga Aunty's husband retired from the District Management Group of the Civil Service in 1991, the couple had settled in Islamabad. Helga Aunty along with a group of like-minded people established the Initiative for Rural and Sustainable Development.
"When my husband retired, I wanted to occupy myself and working in the rural areas outside Islamabad provided me with a good outlet for my energy," she told me back then. By then her three children had grown up and were married or living abroad so she had plenty of free time.
That was when she got a small Suzuki pick-up which she used for her field-work and would drive it herself to the villages around Islamabad in the Potohar area where she introduced the biogas units in a dozen or so villages. That was how I ended up interviewing her for my book as she received some funding from the UNDP Small Grants Programme for the biogas project. Helga Aunty successfully pioneered the use of biogas digesters in Pakistan decades ago.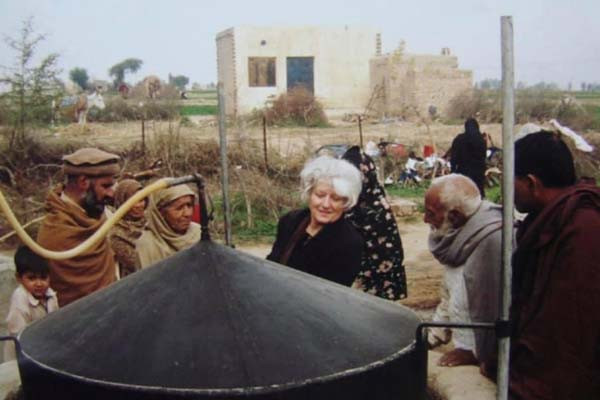 Helga Ahmad pioneered the use of biogas in villages around Islamabad.
I accompanied her on one or two visits to the project sites and Helga Aunty would be like a one-woman health clinic. She would give advice on birth control, pregnancy, hygiene and the use of local herbs all in Urdu, a language she had learnt to speak. Helga Aunty would not mince her words and let people know exactly what she thought of them. "Bavarian Germans are not exactly known for their diplomacy," she would laugh.
She would whizz around the city in her Suzuki pick-up, giving a lift to those who needed it, dropping them off with some good advice and a few hundred rupees always gifted discretely by her. She always had some token amount in her purse – "my daughter (who is married to a doctor) sends me the money from the US," she would confide in me.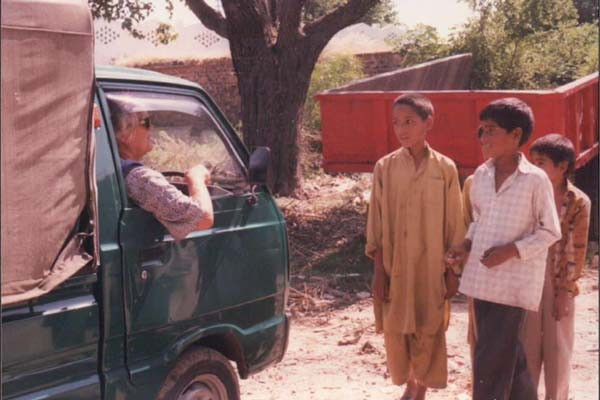 Helga Ahmad in her favourite Suzuki pick-up which she drove around Islamabad for years.
She didn't ever think of spending it on herself – it was always used to help others. Over the years she helped so many people, aiding earthquake and flood and cancer victims. Even when she fell in the high mountains of Chitral and had to be carried down by a local villager she forgot about her broken ankle when she smelt the pesticide on his clothes. "I started giving him a lecture about the harmful effects of pesticide use in his terraced fields and the identified the local herb he should use instead!" she told me. She was in fact a repository of knowledge about herbs and trees.
I first heard about sea buckthorn from her. These magical plants have medicinal and nutritional properties and grow in the wild in the Gilgit-Baltistan region. Sea buckthorn plants control landslides as they have deep roots. They are nitrogen-fixing plants and help to revive mountain springs. Helga Aunty urged the locals of Chaprote village near Gilgit town, which she was visiting at the time, not to cut the sea buckthorn but to make use of it. Thanks to her passionate encouragement, sea buckthorn is now famous in the Gilgit-Baltistan region.
Helga Aunty told me she would like to see it being planted by the government all along the Karakoram Highway to prevent land sliding. "We have to protect our mountain slopes. The debris from the mountain slides ends up in the Indus River. That is why Tarbela Dam is silting up so fast. These mountains are our only watershed so we must create more environmental awareness".
Lately she had been hoping that the commercial farming of hemp would also catch on as well. Helga Aunty thought hemp could be the perfect solution to Pakistan's looming water crisis and the massive over use of chemical fertilizers and pesticides in the country. "The focus today in the West as well as China is on the benefits of hemp which can be used in textiles," she would explain. She believed that various commercial interests played a major role in outlawing hemp, whose fiber length is up to 15 feet whereas cotton fiber is less than one inch long.
She had wanted Pakistani farmers to recognize the benefits of this once ignored plant before it is too late. She would also point out that indigenous trees like the Neem tree and the Drek tree can provide the country with natural pesticides and fertilizers so alternatives are available if we are serious about getting rid of chemical pesticides and fertilizers.
Helga Aunty's regular calls to me were always about others: about the cracks in the mountains in Nagar, about how we were running out of water in some place or the other – never about herself. She introduced me to so many interesting people working for the environment and I would interview them all willingly.
I wish I hadn't taken her for granted. I thought she was indestructible. Last week, she was buried between her favourite Drek trees under a clear, blue sky (she would have approved) in H 8. She went quickly in just a week or so after a sudden stroke. Until we meet again to discuss our trees and hatch our plans – farewell Helga Aunty.
---
All photos courtesy of the author.